Conference venue
Hotel de Guimarães hosts the ISAMI 2010.

Hotel de Guimarães is situated in the centre of Guimarães, a city classified as a UNESCO World Cultural Heritage, and is an excellent and modern four stars hotel where the quality of the services provided and the client's satisfaction are their primal goal.
Hotel de Guimarães abides by the Quality Management System, certified in accordance to European norm ISO 9001-2000.
Hotel de Guimarães agreed with the ISAMI 2010 organization to offer a special price for the Conference participants. Please see Accommodation for details.
Location
This ISAMI 2010 Conference will take place in Guimarães, a city in the north of Portugal, in the Minho region, approximately 350Km north of the capital, Lisbon, and about 50Km from the second largest city, Porto.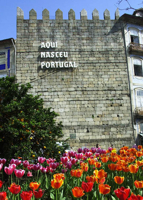 The city of Guimarães has its origin in times previous to the foundation of the Portuguese nationality, and represents more than just the simple birth of a city. Guimarães precedes and prepares the birth of Portugal in the 12th century, and represents the cradle where was born its prince and its kingdom.
The city of Guimarães is like no other city in Portugal. Its past is so intimately interwined with the History of Portugal that it is proudly referred to as the Cradle of the Nation.
Portugal was born here ("Aqui Nasceu Portugal").