How to get to Guimarães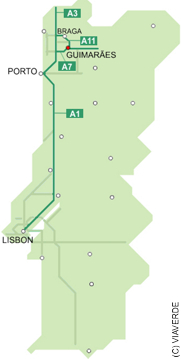 Using the current network of motorways, Guimarães can be reached from Porto in 30 minutes via the A3 and A7. Braga is a mere 15 minutes away on the A11 motorway. Taking the A11 and A3 northbound, Vigo, Spain is 90 minutes away. Lisbon is 3 hours to south, via the A7, A3 and A1 motorways.
Various private bus lines link Guimarães to all major cities in Portugal, with both non-stop and local service (Arriva, Rodoviário de Entre Douro e Minho).
Guimarães is part of a modern railway network that link all major cities in Portugal. The railway transportation between Guimarães and Porto takes approximately 45 minutes. To check schedules please visit the website of the national railway company (Comboios de Portugal) at www.cp.pt.
The nearest airport is Francisco Sá Carneiro International Airport, located in the Porto suburb, about 50Km from Guimarães. Using the A7 and A3 motorways, the airport can be reached in approximately 30 minutes.
The fastest way to reach Guimarães from the airport is by taxi. This should cost around 50EUR and take about 45 minutes.
The cheapest way to go from the airport to Guimarães is to take the metro railway (Metro do Porto) from the airport to Porto and then the train to Guimarães. At the airport, you should take the metro Line E (violet) exiting at Campanhã, costing around 2EUR and taking something like 30 minutes. From here, you may choose an all-stop urban train connection to Guimarães, costing around 2EUR and taking approximetly 1h15min, or a fast train (Intercidades), costing about 10EUR and taking less than one hour to reach Guimarães.